(CLICK HERE to load this post alone and comment.)
I gush praise for Project ElOhIm: Entities of Interest every time I see Rebecca Hicks at a con. I can't help it, it's a great book. Unless your favorite comic was written by Warren Ellis or Garth Ennis 13 years ago, it's better than your favorite comic. It's fun and dramatic and inventive and did I mention it was fun? Not a lot of comic books do fun properly anymore, but this book just nails it. The tone is sharp and controlled. And the art is super cool. Rebecca Hicks found an artist whose work matches her own electric dynamism. I'm fairly certain she's a genius.
In response to my being such a big, excited fan, Rebecca mailed me the remaining issues of the book thus far after Emerald City Comic Con last year for free. Which is why she's a sweetie. I was so excited when they arrived. I devoured them in two days. They were staggeringly excellent. Superlatively, even. I never sent a thank you note. Because I suck.
I want to thank Rebecca Hicks now. My own comic would not have gone live yet and would be several pages longer if not for a conversation I had with her at her booth at ECCC last year. She described her rewrite/editing process of going over the same material several times to strip away absolutely every extraneous (I'm paraphrasing, of course) piece of action and dialogue until what was left actually fit in a comic book. I took this approach to heart, studied the comics she'd sent me, and got back to work on my own book, which had been lying dormant-ish for some time.
I cut 4 pages from issue one. Then I went on to re-edit the entire feature-length script over the course of 3 months until it was as small as I could get it -- cutting 4 pages out of every issue. Thank you, Rebecca Hicks, for helping to make this comic what it's become. When mine gets printed, I'll bring a free copy for you to the next con I see you at.
-Caley Tibbittz
P.S. You can read Project ElOhIm at http://project-elohim.com/archives/182 (and her other comic Little Vampires at http://little-vampires.com/comic/little-vampire-vs-piano-round-one/ )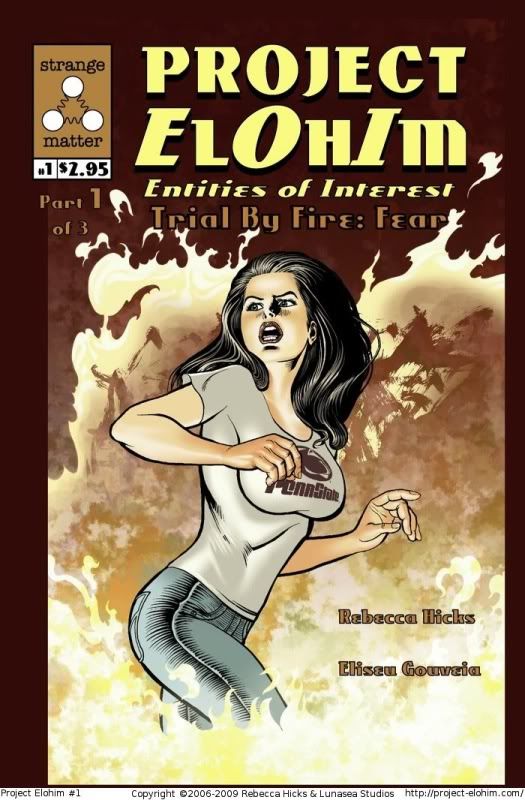 (If the Disqus comments box is not showing, CLICK HERE to comment.)